Travelers often dream of wandering the romantic streets of Paris, admiring the historic architecture of Rome, or soaking up the artsy atmosphere of Barcelona. While the allure of Europe is undeniable, the United States is home to some spectacular cities that give off distinctly European vibes. Here's a guide to 15 U.S. cities that can transport you to Europe without crossing the Atlantic.
New Orleans, Louisiana - Feels like: Southern France
The French Quarter, with its historic architecture, Creole cuisine, and jazz music, evokes feelings reminiscent of Marseille or Bordeaux.

Photo: [sepavo] © 123RF.com

Boston, Massachusetts - Feels like: London, England
The charming brownstones, cobbled streets, and rich colonial history give Boston an English aura, especially around Beacon Hill and the Freedom Trail.

Photo: [mjbs] © 123RF.com

St. Augustine, Florida - Feels like: Spain
Founded by the Spanish in 1565, it's the oldest city in the U.S., filled with Spanish colonial architecture and historic forts.

Photo: [viaval] © 123RF.com

Charleston, South Carolina - Feels like: A Southern European Coastal Town
With its cobblestone streets, historic homes, and waterfront views, Charleston feels akin to a coastal city in southern Spain or Italy.

Photo: [f11photo] © 123RF.com

San Francisco, California - Feels like: Lisbon, Portugal
Think of the cable cars, steep hills, and the nearby Pacific Ocean. Both cities have iconic bridges and a love for seafood.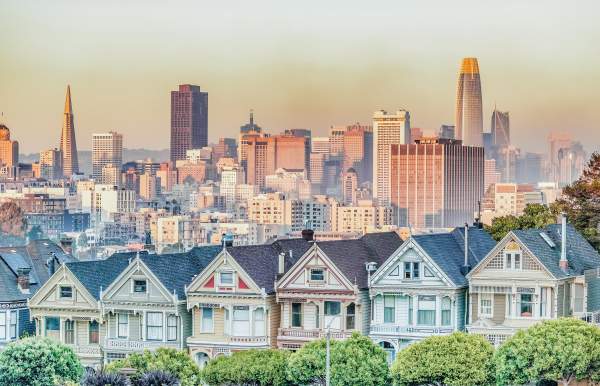 Photo: [lebid] © 123RF.com

Leavenworth, Washington - Feels like: Bavaria, Germany
This city was transformed into a Bavarian village in the 1960s. The Alpine-style buildings and Oktoberfest celebrations will make you think you're in the heart of Germany.

Photo: [olegmayorov] © 123RF.com
Solvang, California - Feels like: Denmark
Founded by Danish Americans, Solvang boasts windmills, timber-framed houses, and bakeries selling Danish pastries.

Photo: [bennymarty] © 123RF.com
Holland, Michigan - Feels like: The Netherlands
With its annual Tulip Time Festival, historic windmill, and Dutch architecture, Holland is a slice of the Netherlands in the Midwest.

Photo: [csterken] © 123RF.com
Venice, California - Feels like: Venice, Italy
Though more bohemian than its Italian counterpart, the Venice Canals in California echo the waterways and bridges of Venice, Italy.

Photo: [rosanascapinello] © 123RF.com
Las Vegas, Nevada - Feels like: Various European Cities
The Venetian, Paris Las Vegas, and Caesars Palace all evoke different European locales, albeit with a glitzy twist.

Photo: [meinzahn] © 123RF.com

Philadelphia, Pennsylvania - Feels like: Rome, Italy
With its historic sites like the Liberty Bell, Independence Hall, and beautiful fountains, Philly channels the old-world charm of Rome.

Photo: [sepavo] © 123RF.com

Montpelier, Vermont - Feels like: French countryside
Quaint and picturesque, Montpelier's artisan boutiques, cafes, and the New England landscape bear a resemblance to rural France.

Photo: [sepavo] © 123RF.com

Carmel-by-the-Sea, California - Feels like: Coastal England or France
With its fairy-tale cottages, cool weather, and Pacific Ocean views, Carmel could easily be a sister city to a European coastal village.

Photo: [kyolshin] © 123RF.com