Italy, with its rich history, breathtaking landscapes, and vibrant urban centers, has long been a muse for filmmakers from around the world. The country's scenic backdrops combined with its cultural essence have given birth to countless cinematic masterpieces. Below is a list of 15 of the most evocative movies filmed in Italy that transport viewers straight to the heart of this enchanting land.
"La Dolce Vita" (1960) - Directed by Federico Fellini, this film captures the opulence and hedonism of Rome's post-war years. The iconic Trevi Fountain scene with Anita Ekberg remains one of cinema's most memorable moments.
"The Bicycle Thief" (1948) - A poignant portrayal of post-war Italy, Vittorio De Sica's film narrates the heart-wrenching story of a father's desperate search for his stolen bicycle.
"Cinema Paradiso" (1988) - This Oscar-winning film by Giuseppe Tornatore is a nostalgic tribute to the magic of movies, set against the backdrop of a small Sicilian village.
"Under the Tuscan Sun" (2003) - Based on Frances Mayes' memoir, this film showcases the beauty of Tuscany as Diane Lane's character embarks on a journey of self-discovery.
"Roman Holiday" (1953) - Audrey Hepburn and Gregory Peck traverse the romantic streets of Rome in this delightful classic, making every viewer yearn for an Italian getaway.
"Life is Beautiful" (1997) - Roberto Benigni's tragicomic tale set in a WWII concentration camp won him an Academy Award and displayed Tuscany's contrasting beauty amid a heart-wrenching storyline.
"Il Postino" (1994) - The serene landscapes of Salina Island serve as the backdrop for this touching tale of a postman inspired by the poetry of Pablo Neruda.
"A Room with a View" (1985) - The allure of Florence and the Tuscan countryside form a lush setting for this E.M. Forster adaptation.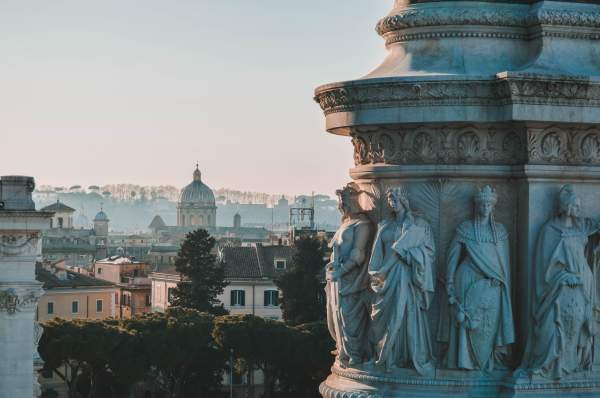 Photo: unsplash.com/ibaxez

"Call Me by Your Name" (2017) - This poignant tale of summer love, directed by Luca Guadagnino, is made even more evocative by the sun-kissed landscapes of Lombardy.
"The Talented Mr. Ripley" (1999) - With scenes set in Rome, Venice, and coastal towns, this psychological thriller showcases Italy in a suspenseful yet glamorous light.
"The Godfather Part III" (1990) - While parts of The Godfather series were shot in Italy, the third installment prominently features Sicily, adding depth and authenticity to the Corleone family saga.
"Stealing Beauty" (1996) - Bernardo Bertolucci's film explores themes of love and loss amidst the enchanting hills of Tuscany.
"The English Patient" (1996) - The Tuscan town of Arezzo and its surroundings add to the romance and drama of this wartime epic.
"Eat Pray Love" (2010) - Julia Roberts' character's journey through Italy (especially Rome) captures the essence of Italian culture, food, and the spirit of discovery.
"La Grande Bellezza" (2013) - This visual feast by Paolo Sorrentino offers an introspective look at modern Rome, juxtaposed with its ancient grandeur.
In essence, these films serve not only as stunning visual treats but also as compelling narratives that are enriched by the Italian landscapes and cultural nuances. Italy remains a favorite for filmmakers, promising more cinematic gems in the future.