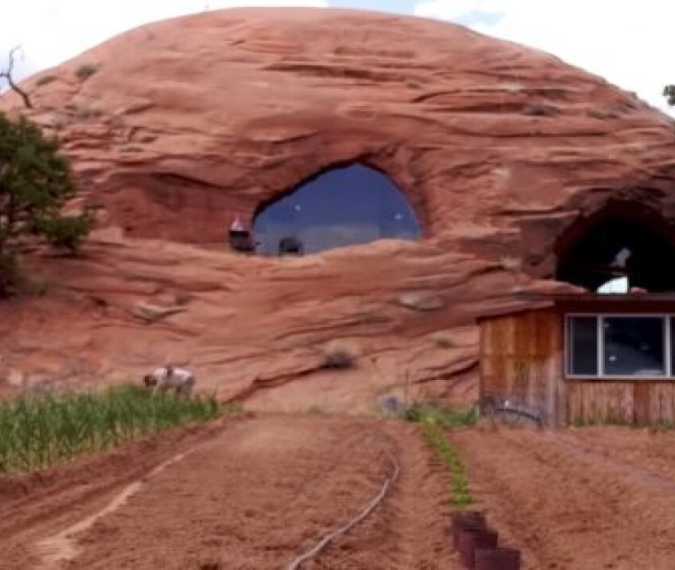 Did you know that you can live the experience of a stay inside a cave in Utah, United States? It's the "Bedrock Homestead Cave" as it's listed on Airbnb, and it's one of the weirdest places the platform has to offer. The listing calls it "rugged but comfortable accommodation" noting that guests will need to use a four-wheel drive vehicle to get there since the route involves crossing a river ... and don't forget there's no Wi-Fi through en route.

Photo: Airbnb

In particular, in the description it is stated that "Bedrock Homestead West End is in a private wing of Grant's shared custom cave home that he blasted from a freestanding rock! The cave's a fascinating work of art from which you'll enjoy a view of the Grand Staircase Monument. Bedrock is a master example of sustainable living, with a seasonal blasted-out, nine-foot deep outdoor pool! Outside on your private earthen patio, you'll enjoy a BBQ and nice big sitting area. Plenty of hiking from the homestead with incredible views, as well as short driving distance hikes in the area!".
Are you interested? If so, check out the property in person on Airbnb: Here

Photo: Airbnb

But the most interesting thing about this accommodation is the history of its creation. Grant Johnson, its owner, moved to Utah in his 20s, bought a piece of land that would become a National Monument property, and spent the next 40 years creating an off-the-grid plot with a 5,000-square-foot cave. Initially, he didn't conceive the idea of ​​making his cave home until 1995, when he blasted a small tunnel into the mountain and that's when the idea was born. The fact that he worked in college as a miner certainly helped him build an incredible cave house. It's a 5,700-square-foot man-made cave home with modern amenities like hydroelectric power, air conditioners, a gas grill, and cell phone service. To be able to fulfill his dream of building the house, during the construction he lived on the property in a trailer without running water or electricity for 25 years, learning to grow his own food. Today, the place houses plenty of living space for Johnson and his partner, Gina as well as a music room for jamming. It also includes an Airbnb accommodation of a two-bedroom, one-bathroom apartment that you can rent for about $355 a night.
Check out the video of Johnson's home posted on YouTube by Tiny House Giant Journey.