When it comes to picking the best winter escapes in the United States, it's best to ask yourself if you are looking for something warm and free, or something that offers you a full winter experience. Fortunately, the size of the US makes it naturally diverse in terms of weather, offering you endless choices from snow slopes to sandy beaches. Here are the 10 best winter escapes in the United States you can choose from!
Key West - Florida
When looking for a slightly warmer experience, you will find Key West - Florida to be the best option. When in Key West you can eat your heart out, as winter brings on endless food choices that are often overlooked during the summer season.
Photo: unsplash.com/jwheeler5759
Minneapolis
An underrated winter experience that will have you coming back for more! Offering you a complete winter experience starting with a 10-day superfest. The Great Northern Festival is a family-friendly event that offers experiences such as ice sculptures, Ice Hockey, Ice Skating, and so much more!
Photo: unsplash.com/joshhild
Magic Mountain Ski Area - Vermont
A ski resort getaway from pros! If you are ready to take on steep, and winding slopes then head over to the Magic Mountain Ski Area in Vermont. Additionally, the place offers a great learning experience for kids who are interested in skinning, and adults can indulge in some local taverns with live music and amazing views.
Photo: unsplash.com/ohylime
New Orleans
A place where the party never stops! New Orleans is home to art, music, culture, and booze. Offering a rich history it is commonly celebrating a local or national holiday. When in New Orleans it's best to take in as much history as you can, starting with a visit to the French Quarter. Then heading to jazz-rich neighborhoods such as Treme and Marigny.
Photo: unsplash.com/ayasn
St. John - U.S. Virgin Islands
One of the smallest and untouched U.S. Virgin Islands. As there is no airport or pier, you will have to take a ferry from St. Thomas. Arriving at a lush national park view, where you will find turquoise waters that are perfect for snorkeling. Or you can go hiking, bicycling, or get up close and personal with pelicans, turtles, and tropical flowers.
Photo: unsplash.com/livin
Crystal River - Florida
When looking to spend your winters in a more soothing environment, it's best to head to Florida during the winter season. It's usually cool and partly cloudy. When at Crystal river you can swim with manatees, or watch them from afar. Along with some summer side fun, you can take a deep dive into the prehistoric human settlement - that might be the oldest in the country.
Photo: commons.wikimedia.org/U.S. Fish and Wildlife Service Headquarters
Hanover - New Hampshire
Home to Dartmouth College's annual winter carnival, Hanover makes for a wonderful winter escape. What started in 1911, is still an ongoing tradition that packs 3 days of February with ski races, sculpture contests, polar bear swims, and other winter fun activities. Even if you do not visit the city during the carnival, you will find a great deal to do when in Hanover. From hitting the skis to going ice skating - the place offers a complete winter experience.
Photo: commons.wikimedia.org/Ken_Gallager
Asheville - North Carolina
An ideal choice for individuals/families looking for a mountain range, but are not fans of heavy snowfall. Located in the Blue Ridge Mountain in North Carolina - the city offers endless places to explore. Here you can take on hikes, waterfalls, meadows, hilltops, or just sit and take in the blue-tinged mountains.
Photo: commons.wikimedia.org/Michael Tracey
Kauai - Hawaii
While it's never a bad time to visit Kauai. However, the best time is during the winter season. Blessed with a tropical climate around the year Kauai offers you a charming experience. Here you can enjoy trekking through the rainforest, marveling at seaside bluffs, or head out to discover some of the most mesmerizing golden-sand beaches in the world.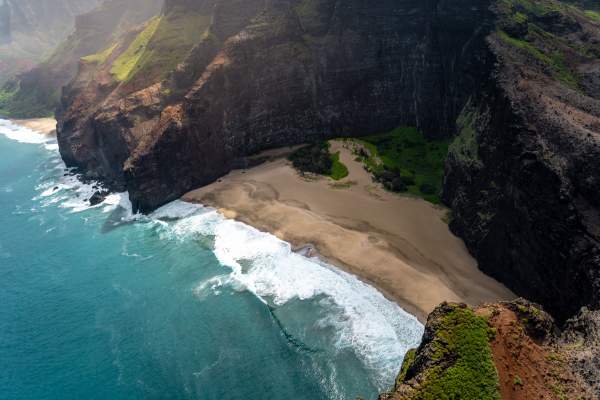 Photo: unsplash.com/debrupas
Yellowstone National Park - Wyoming
The winter season takes you back to a time when the Yellowstone National Park was road free. Covered in the snow the park turns into a natural winter wonderland. You can explore the park on snowmobiles, skis, or snow coaches.

Photo: unsplash.com/bdelfino