Italy has its charm, attraction, cuisines, culture, history, food, wine, beaches, mountains, and ancient ruins - one can go on about Italy! Most tourists visit this beloved country to experience tons of places, pristine beaches, and hiking in unspoiled nature.
Indeed, Italy is overweighed by a series of benefits - like unique festivals, great hotels & transportation, making it an ideal destination for all.
Here Are The Top 8 Reasons Why You Should Visit Italy:
1. Visit Roman Ruins
History played a crucial role in shaping Italy's capital - Rome. The city is like one large archaeological dig which preserves historic ruins, monuments, Colosseum and Roman Forum other ruins of ancient towns like Herculaneum and Pompeii.
2. Italian Villages are Stunning
Tourists never skip visiting the real treasure of this beautiful city - its villages. Undoubtedly, Italian villages like San Gimignano, Manarola's coastal town, are equally stunning and worth every penny.
3. Picturesque Italian Lakes Are the Prettiest
Are you excited to know what all-natural beauty Italy has to offer? Move ahead to Northern Italy to locate stunning lakes like Como, Garda, Trasimeno, and Maggiore and plush villas with expensive gardens.
4. Italy Treasures UNESCO World Heritage Sites
UNESCO World Heritage sites and Italy are synonymous, with the highest collection of UNESCO designated monuments and historical sites (about 50 sites), for example:
• Florence
• Naples
• Rome
• Beautiful villages of Cinque Terre
5. Art and Culture of Italy Is Mind-Blowing
The country is a center of Renaissance moments and renowned painters like Leonardo Da Vinci, Michelangelo, Raphael, Botticelli, Donatello, etc.
Italian cities like Milan and Florence have art & culture as the daily part of their lives.
Photo:
unsplash.com/a_mfelipe
6. Italian Islands Are To Die For
If you love beaches and crystal clear water, Italian white beaches with lavish resorts and historical sites are too good to be true.Italian Islands like Lampedusa, Stromboli, and Capri holds its charm and are considered the best beaches in Europe.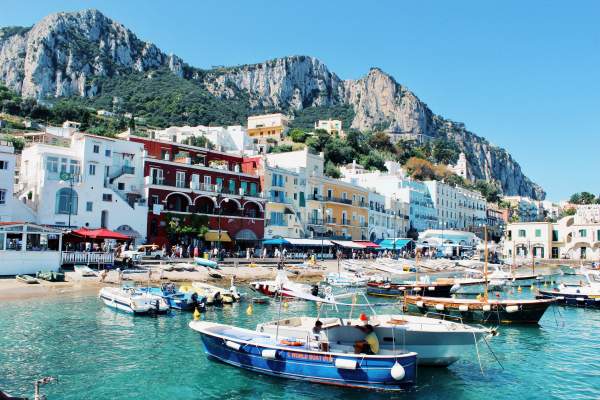 7. Italy is a Food Paradise
Do you live for food? Italian fresh, colorful, delicious, flavorsome, and lip-smacking food like wood fried pizza, Tuscan pasta, and spaghetti are all filled with distinct flavors and passion. Italian meat-based delicacies and Mediterranean dishes hold its flavor along with Italian character.
8. Diverse Italian Festivals Are Colorful and Fun
Some fantastic festivals like Palio di Siena, Game of the Bridge, Corsa deo Ceri Gubbio, and Historic Regatta are an integral part of Italian culture and displays how Italians stay happy and vibrant all around the year. Italy is one of the best countries to visit for everything: good food, great wines, amazing landscapes, beautiful coastal cities & villages.