New York City is a magical place during the holidays. The streets are lined with twinkling lights, the energy is high, and there's so much to see and do. Here are 10 reasons why you should add NYC to your travel list this holiday season.
The Macy's Thanksgiving Day Parade
The Macy's Thanksgiving Day Parade is an NYC institution. Every year, on Thanksgiving morning, onlookers line up along the parade route to watch enormous floats, Broadway performers, and marching bands make their way through the city streets. It's truly a spectacle not to be missed.
Rockefeller Center Christmas Tree
See the world-famous Rockefeller Center Christmas tree. This gigantic tree is illuminated with over 50,000 lights and is a sight to behold. Make sure to visit early in the evening when the area is less crowded, and you can take in the beauty of this landmark.

Photo: unsplash.com/johnell_pannell
Ice skate in Bryant Park
Skating is free if you bring your own skates or rent them on-site for a small fee. After you work up an appetite skating around, stop by one of the many food vendors for a bite.
Bryant Park Winter Village
Browse the stalls at Bryant Park Winter Village. This festive market has everything from Christmas decorations to unique gifts you won't find anywhere else. It's the perfect place to pick up holiday souvenirs for your loved ones.
Visit Rockefeller Center
For some of the best views of Manhattan, head to Rockefeller Center and purchase tickets to ride up to the Top of the Rock Observation Deck. You'll see all of NYC's iconic landmarks sparkling before your eyes.

Photo: unsplash.com/alexhaney
Holiday Windows
If you love Christmas decorations, you'll want to check out the holiday windows at some of NYC's most famous department stores, like Bloomingdale's, Lord & Taylor, and Saks Fifth Avenue. Each store goes all out to create unique and festive displays that will get you into the holiday spirit.
Visit Central Park
Central Park is lovely any time of year, but it takes on a new level of beauty when it's covered in snow. Take a leisurely walk around the park and take in all the sights and sounds of winter in NYC.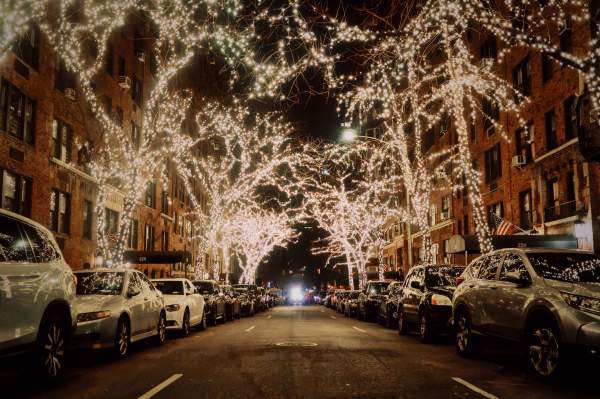 Photo: unsplash.com/clayleconey
See The Nutcracker
If you love ballet, you won't miss seeing The Nutcracker performed by the New York City Ballet during your visit to NYC at Christmas. The Nutcracker is one of the most beloved ballets of all time, and it's the perfect way to experience some classic holiday magic.
Radio City Music Hall Christmas Spectacular
The Radio City Music Hall Christmas Spectacular is another NYC tradition that shouldn't be missed when visiting during the Christmas season. The show features lavish sets and costumes, high-flying acrobatics, and – of course – Santa Claus himself.
Try Festive Drinks
What would Christmas be without some festive drinks? You can find plenty of them throughout NYC during Christmastime – from hot toddies served at cozy bars to eggnog lattes from your favorite coffee shops.

Photo: unsplash.com/seantime