Northern of Italy, in the Venetian Lagoon, there is a tiny but completely amazingly colorful island called Burano. It is known for its brightly-painted buildings and flowerpots that create a place that looks like a painting. With a population of 2,800 residents, the island has become a paradise for photography lovers as the variety of colors and the fishboats create a unique scenery. You can explore the entire island in 30 minutes.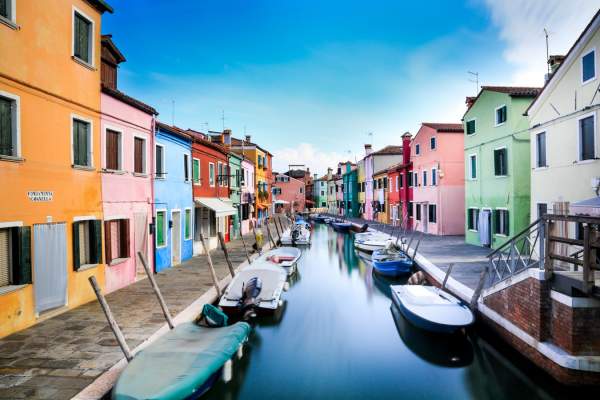 Photo : unsplash.com/lopezrobin
According to the local people, all started when the island's fishermen have decided to paint their homes in vibrant colors in order to easily distinguish them through the thick fog when they return home.
Interesting fact: If a Burano resident decides to paint his home, he has firstly to inform the government which indicates certain colors that are permitted to be used.
Photo : unsplash.com/canmandawe
Burano is only 7 km away from Venice, 40 minutes from St. Mark's Square by vaporetto, a venetian water bus. The ticket costs €6.50 per person. Specifically, from he railway station in Venice, take vaporetto No. 4.1 towards Fondamente Nove and then change to the No. 12, which will take you to Burano via the island of Mazzorbo, which is attached to the colourful island by a footbridge.

Photo : unsplash.com/vanessaleeys
Tip: Because Burano is an island of working fishermen, you can get super-fresh seafood at a low price.
Burano is not only famous for its colorful houses but also for the handmade lace from the island's women.