Undoubtedly, the Airbnb platform has given us several alternative options for accommodation during a trip, beyond a conventional hotel room. For example, have you ever imagined that you could take a holiday in Greece and spend the night inside an impressive windmill?
On the beautiful Greek island of Zakynthos there is a white windmill perched on the side of a cliff, with a stunning and unobstructed view of the Ionian Sea. This is an original old windmill that worked to grind wheat and produce flour, but stopped working with the advent of machines a few years later.

Photo: Airbnb

Now renovated and fully equipped, it can accommodate up to four people. It consists of three floors and undoubtedly the most impressive room is located on the third floor with a 360 degree view of the endless blue and the mountainous part of the island. Visitors will have the opportunity to enjoy the entire area of ​​the property which, apart from the interior, includes all the natural environment surrounding the windmill. Also, remember that it is not very close to other settlements, so you will have the opportunity to enjoy some kind of romantic seclusion.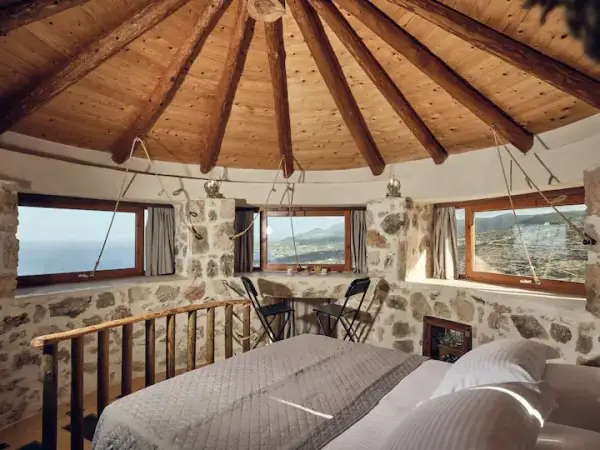 Photo: Airbnb

Prices depending on the time period you choose vary and start at about $150 per night (for a stay in October), based on a three-night minimum stay. Learn more in the official Airbnb listing.
As for Zakynthos, it is an island known to most for its parties and intense nightlife, but no one should forget that it is famous for its natural beauty and pristine beaches.

Photo: Airbnb