Travelling across the countries seems easier and faster on a plane trip. However, nowadays there are some ultra-modern trains that can run as fast as airplanes, with the privilege of having great views from the windows to countryside or the city.
Check out the list of the ten fastest trains in the world below.
1. SHANGHAI MAGLEV- 267.8 MPH (CHINA)
Shanghai Maglev is the fastest train in the world with a maximum operating speed of 267.8 mph. It isn't of the newest technology or the train with the most expensive tickets: as you can give US $8 for a regular ticket or US $16 for a VIP ticket. It operates between Long Yang Road and Pudong international airport -that means it doesn't go to the city centre- and it only takes 7 minutes and 20 seconds to complete the whole journey. The total passenger capacity of the Shanghai maglev train is 574. Unlike regular train tracks, Shanghai Maglev has no wheel, and it floats on magnetic field existing between the train and track. Interesting fact: there are cameras outside that take photos of the train's speed when it surpass 431 km/hr (267 mph).
Photo by : J PATRICK FISCHER ON WIKIMEDIA COMMONS


2. HARMONY CRH 380A- 236.12 MPH (CHINA)
China railways Harmony CRH 380A is the second fastest operating train service in the world as it achieves a maximum speed of 236.12 mph. It operates from Beijing to Shanghai and provides daily service along Wuhan to Guangzhou route. The CRH 380A trains can carry 494 passengers at a time and it offers many facilities like the reading lamp, power port, an electronic display and serving food and drinks. The train has an unusual design: a low weight Aluminium alloy body and a fish-head like the front car and more important, it's entirely vibration free.
Photo by : UCEMBER ON WIKIMEDIA COMMONS


3. AGV ITALO- 223.6 MPH (ITALY)
AGV Italo is considered as the most modern and fast-running train in Europe. The train can achieve a maximum operational speed of 223.6 mph. It currently operates between Rome and Naples (distance – 140 mi) in just an hour. AVG Italo has an Eco-friendly structure, meaning that 98% of its parts are recyclable. The seats are divided into three classes – Club, Prima, and Smart - and all of them have adjustable leather seats, live television, and free Wi-Fi. It first started operating in April 2007.
Photo by : OFF1980 ON WIKIMEDIA COMMONS


4. SIEMENS VELARO- 217.4 MPH (SPAIN)
Velaro E by Siemens is Spain's fastest train as it runs at a maximum speed of 217.4 mp. This train was ordered by Spanish National Railways Renfe and it travels between Barcelona and Madrid in just 2 hours and 30 minutes. It has 8 passenger car sets and 404 seats in total. During trials, the Velaro E achieved a top speed of 250.84 mph.
Photo by : SEBASTIAN TERFLOTH ON WIKIMEDIA COMMONS


5. TALGO 3500- 217.4 MPH (SPAIN)
Spain's Talgo 350 high-speed train can achieve a maximum speed of 217.4 mph, although the train achieved the top speed of 365 kmph during the trial run. It runs between Madrid and Barcelona and it's operated by the state-run railway company. This train has two driving cars and 12 passenger cars. Seats are divided, in Talgo 350 trains, into four classes – Club class, First class, Bistro class, and Coach class that provide comfortable reclining seats with footrests, bistro and coach class. The Talgo 350 has been designed to be aerodynamic so as to handle pressure waves at high speeds. It is also named as "Pato" in Spain as it has a duck-like beak for the nose of the front car.
Photo by : PETER CHRISTENER ON WIKIMEDIA COMMONS


6. E5 SERIES SHINKANSEN HAYABUSA- 198.8 MPH (JAPAN)
The E5 series is a Japanese Shinkansen high-speed train type operated by East Japan Railway Company on Tohoku Shinkansen services. It's a new generation train connecting Tokyo with Aomori through the Tohoku Shinkansen (Japanese high-speed line) since March 2011. The maximum speed of the train reaches 198.8 mph and the journey lasts just 2 hours and 56 minutes. It has 731 seats in total with a premium first class seating area, called GranClass.The front car of the E5 series train has a 15-meter long nose in order to prevent and minimize the sound and vibration while the train goes through the tunnels.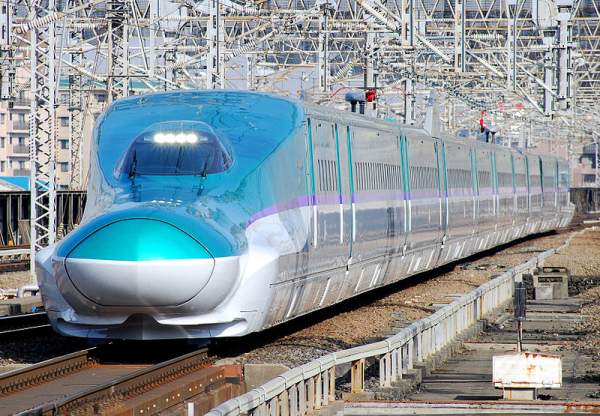 Photo by : TOSHINORI BABA ON WIKIMEDIA COMMONS


7. ALSTOM EURODUPLEX- 198.8 MPH (FRANCE)
The Alstom Avelia Euroduplex, manufactured by Alstom, is a high-speed double decker electric multiple unit train.Euroduplex trains are the third series of TGV duplex high-speed trains. The French railway company SNCF operates the Euroduplex train service that connects French, Swiss, German and Luxembourg rail network at a maximum speed of 198.8 mph. This train can subserve 1020 passengers at a time. It was put into service in December 2011. Compared with the previous two generations, the Euroduplex trains are less in weight and have much-improved aerodynamics that translates into low power consumption. Interesting fact: Euroduplex trains have a real-time facility with travel information screen near the door and inside the car set.
Photo by : HOFF1980 ON WIKIMEDIA


8. SNCF TGV DUPLEX- 198.8 MPH (FRANCE)
TGV duplex is the fastest train service in France as it can achieve a maximum speed of 198.8 mph. The SNCF railway company operates this high-speed train service since December 2011. The high-speed train with two seating levels connects all the main cities in France with a capacity of 508 passengers.It gives to the passengers the choice of three main classes – standard class, first class, and TGV Pro. The standard class offers comfortable seats, snack vending machines, and a bar buffet, unlike the first class, that has more comfortable reclining seats, individual reading lights, and sockets for your electrical devices. The TGV Pro class offers extra comfortable and spacious seats, a welcome drink, free Wi-Fi, newspapers, and magazines.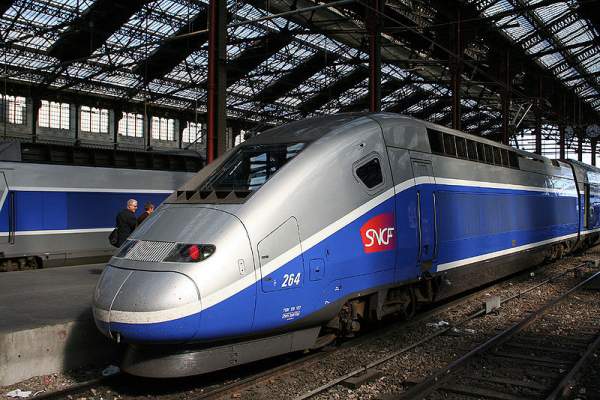 Photo by : SEBASTIAN TERFLOTH ON WIKIMEDIA


9. ETR 500 FRECCIAROSSA- 186.4 MPH (ITALY)
ETR 500 Frecciarossa is the fastest train in Italy, operating in Italy since 1993 and manufactured by TREno Veloce Italiano (TREVI). It runs with a maximum speed of 186.4 mph between Milan-Rome-Naples route meaning that you can reach Rome in just 2 hours and 40 minutes. This service offers 72 connections daily and 28 non-stop Frecciarossa trains between these destinations. You can purchase tickets for standard class, premium class, business class or executive class. The cars of Frecciarossa trains are soundproof and provide free Wi-Fi to all passengers.
Photo by : STUPORESMUNDI ON WIKIMEDIA


10. THSR 700T- 186.4 MPH (TAIWAN)
THSR 700T is a series of Taiwanese high-speed multiple unit trains. It travels between Taipei City and Kaohsiung, making a journey of four and a half hours into just 90 minutes with a maximum speed of 186.4 mph. It started operating on 5th January 2007. It also has 12 car sets in total and currently each 700T train has a single business class and 11 standard class cars. The business class cabin has a capacity of 66 passengers, and the standard class offers 923 seats. The cars of THSR 700T are soundproof and provide the facility of real-time travel information.
Photo by : RSA ON WIKIMEDIA COMMONS