The beautiful little Belgian town is one of those rare occasions that don't take more than a few minutes to magnetize you. Those who have already visited this beautiful city have to say that it is one of the most romantic cities.
Known as the "Venice of the North", the small Belgian town that seems to have sprung from a fairy tale has picturesque streets, medieval buildings, tall castles and dreamy canals that make up this fairytale city. The city's historic center is a UNESCO World Heritage Site.

Photo: unsplash.com/olivierdepaep
Bruges has 2 main squares, with Market Square (Markt) being the medieval heart of the city, amidst beautiful buildings with stepped roofs. You will see it better from above, climbing 366 steps, where you will find Belfort, a towering bell tower with panoramic views with 47 bells ringing from the 18th century.

There is no better way to get to know the city than a walk in the wonderful canals. Enjoy your walk along the canals Steenhouwersdijk and Groenerei in the south, cross two of the oldest bridges and live a unique experience. Swans are one of Bruges' symbols. You will find them in the canals and along the banks.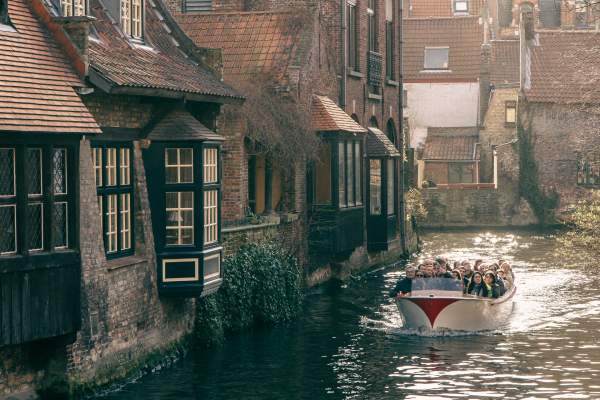 Photo: unsplash.com/harrson

Belgium is undoubtedly the home of gourmet chocolate and Bruges is the best place to taste it. The picturesque chocolate shops placed at the town's squares are so impressive, but it's so much special and a unique experience to enter the Choco Story Museum, the best chocolate museum in Belgium! Here you will learn the history and its secrets and you will try chocolates that are made at that moment in front of you. (choco-story-brugge.be)

Photo: unsplash.com/despinagalani

For couples there is also the Minnewater Park, where the Lake of Love is located. Legend has it that by crossing the bridge over the lake with your partner, love will remain eternal.