Discovering the Big Apple on a budget is a challenge, but with a little creativity and forethought, a day in New York City can be yours for just $50. Here's a roadmap to an unforgettable experience:
Begin your day by immersing yourself in the city, with a stroll or bike ride to take in the sights, sounds, and pulse of New York at no cost. If you need to cover more ground, consider using the city's extensive subway system. A single ride costs just $2.75, or, if you plan to use it frequently, a MetroCard, providing unlimited rides for a set period, may be the way to go.

Photo: unsplash.com/gillenha

New York is home to some of the finest museums in the world, many of which offer free admission on specific days of the week. Take a stroll through the Museum of Modern Art (MoMA), for example, on Friday evenings from 4-8 PM, or check out the American Museum of Natural History or the Metropolitan Museum of Art, both offering free admission with a suggested donation.
At the heart of New York lies Central Park, a must-visit for all who venture to the city. This iconic park boasts a range of attractions, including the Central Park Zoo, the Central Park Conservatory Garden, and the Bethesda Fountain, all available to explore for free. Take your time, wander its paths, marvel at its lakes and gardens, and soak in its beauty.
For a budget-friendly meal, pack a picnic and head to Central Park. Grab some sandwiches, fruit, and drinks from a nearby deli and savor a leisurely lunch surrounded by the park's splendor.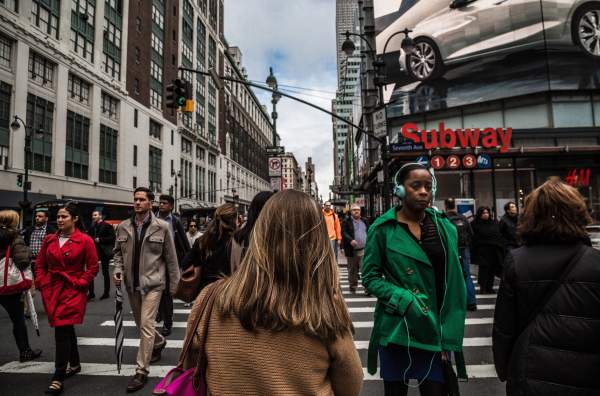 Photo: unsplash.com/christopher__burns

Take a walk across the Brooklyn Bridge, one of New York's most famous landmarks, and enjoy breathtaking views of the city skyline while getting some exercise. This activity is also free.
The High Line, an elevated park built on an old railway track, runs through the Chelsea neighborhood of Manhattan, offering stunning views of the city and a peaceful oasis amidst the city's hustle and bustle. Admission to the High Line is free.
Savor a slice of New York's famous pizza at one of the city's many pizzerias, such as Lombardi's or Di Fara Pizza, for a cheap and satisfying meal.
Finally, immerse yourself in New York's thriving theater scene, with discounted tickets available for Broadway shows or off-Broadway productions. Check websites like TodayTix or TKTS for last-minute deals.
With these budget-friendly tips, you'll have an unforgettable day in the incredible city of New York, whether you're interested in exploring its culture, history, or natural beauty. There's something for everyone in this metropolis.