One of the most imposing buildings and prominent landmarks of New York City is the St. Patrick's Cathedral. The decorated Neo-Gothic Roman Catholic cathedral is a parish church, located on the east side of Fifth Avenue between 50th and 51st Streets in Midtown Manhattan. In addition, it's the seat of the archbishop of the Roman Catholic Archdiocese of New York.
This international landmark, dedicated in 1879 and designed by architect James Renwick, welcomes more than five million visitors annually.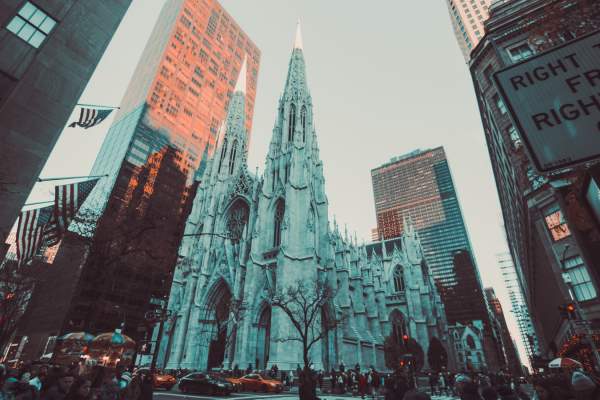 Photo : unsplash.com/_miltiadis_

Here are some facts about St. Patrick's Cathedral:
- St. Patrick's Cathedral on Fifth Avenue in New York is the largest Gothic Roman Catholic Cathedral in the United States.
- The Cathedral's substructure was laid in 1858.
- The Cathedral was named after St. Patrick, the patron saint of Ireland, in response to the increasing numbers of Irish immigrants in the city.
- The church takes up one whole city block. The spires rise 330 feet above street level. It seats 2,400 people.
Photo : unsplash.com/jbcreate_
- The giant Cathedral's organ, which was replaced in 1930, has 7,855 pipes.
- The Cathedral has 21 altars and 19 bells, each named after a different saint.
- It has more than 2,800 stained glass panels.
- Eight Archbishops of New York are buried in a crypt under the high altar.
- About 150 weddings are taking place there every year.
-St. Patrick's stained glass windows come from and all over the world and especially France.
-The Baptistery was designed by John Lafarge, who worked on the Met Museum.
- The Wedding of Zelda and Frances Scott Fitzgerald took place in St. Patrick's rectory.