How many of us daily drown in work, in the routine of everyday life and constantly complain about how tired we are and that we don't feel like doing anything? Clearly it is a reason that takes us away from things we love like traveling abroad but physical fatigue cannot be an excuse.
When a grandmother born in 1927 decides to live a wealth of travel experiences, it is motivation for all of us to seize the opportunity and arrange the next excursion.

Photo: Baba Lena Erkhova

Elena Erkhova, a 91-year-old lady from the city of Krasnoyarsk, Siberia, Russia is a prime example, proving that it's never too late to start doing something you love. She decided to enjoy her life to the fullest, even at her vulnerable age, traveling alone to different parts of the world. Lena has always loved to travel and when she was younger in the 1970s, she had managed to travel to foreign cities such as Prague, Poland and East Germany, places that were allowed as travel destinations outside the Soviet Union.
But as travel at that time was expensive and a kind of luxury for most, she was forced to stop it for several decades, until she reached the age of 83. It was then that she got the courage to live her dream and travel to as many parts of the world as she could for eight years until she sadly passed away from cancer in 2019. In order to financially support her travels, she saved money from her pension and at the same time, sold flowers and knitted goods.

Photo: Baba Lena Erkhova

Lena was quite active and visited locations around Russia, such as the Republic of Tuva, Novosibirsk, Mount Elbrus and Moscow, but she was not limited to the country's borders as she also reached more distant destinations such as Turkey, Dominican Republic, Germany, Thailand, Spain, Italy, Vietnam and many more places.

Although she always traveled alone, she did not limit herself to a simple tour of the place she visited but ventured to take part in a variety of activities, such as riding a camel in Israel, rafting, and participating in cultural celebrations etc. Her travels were definitely not boring!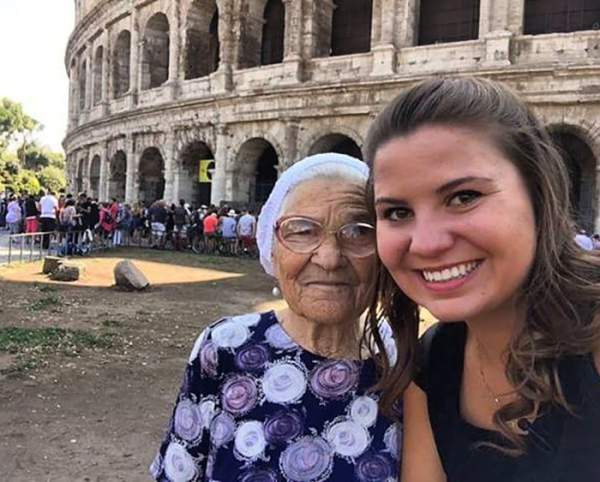 Photo: Baba Lena Erkhova

On one of her trips, she met a Russian compatriot, Ekaterina Papina, who shared on social media a photo of her meeting with Lena which went viral on the internet, receiving over 14,000 shares on Facebook. It was then that her grandson got the idea and decided to introduce his active grandmother to social media and document her travels on Facebook, Instagram and YouTube, where over the years she has managed to gather thousands of followers.